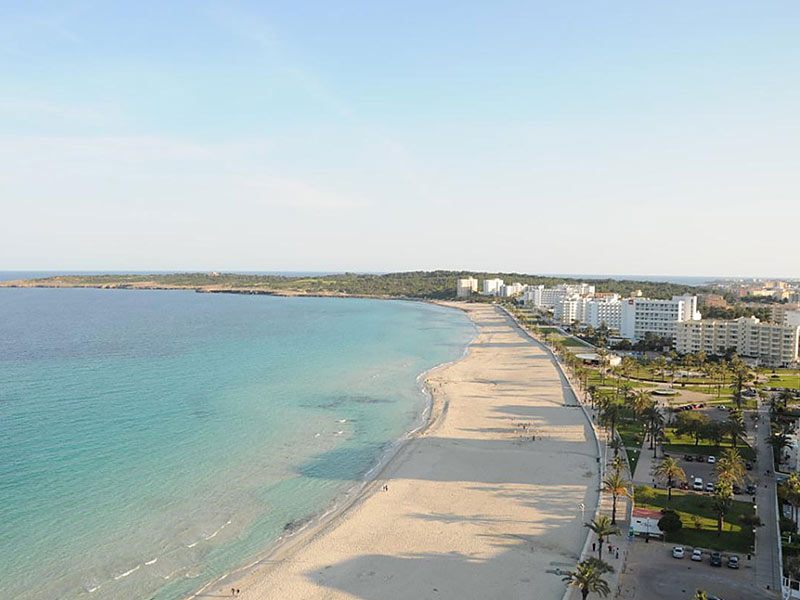 | | |
| --- | --- |
| FactSheet |   |
| Town | Son Servera and Sant Llorenç |
| Address | Cala Millor |
| How to get | walk, bike, bus, mini-train,car |
| Width | 50 m. |
| Length | 2000 m. |
| Composition | Sand |
| Marina | Port of Cala Bona |
| Anchoring zone | Yes |
Cala Millor Beach –also known as Son Moro and Cala Nau– offers us fine, clean, sand with white grains and transparent blue bathing waters. It is the largest of the eight beaches in the resort of CALA MILLOR MALLORCA. Its extensive stretch of sand opens on to the bay in an area of exceptional scenic beauty between Costa dels Pins and Sa Punta de n'Amer, the latter declared a Natural Area of Special Interest.
Environmental management, the beauty and cleanliness of its waters and its modern infrastructure have led it to be awarded the Blue Flag in recent years. Cala Millor Beach also has the Integrated Tourism Quality System (SICTED) seal of approval awarded by the Ministry of Tourism and Sport. Visitors can download an app with information about the weather, the environment, services and safety advice.
Safety: Lifeguards are on duty during the day. The service has a rescue launch, a jet ski, buoys marking the channels for vessels and bathing area limits, a first aid station and safety equipment.
Accessibility: The beach has various access ramps for disabled persons and other bathers who request them, as well as reserved parking areas.
Parking: Vehicle and bicycle parking is available nearby and it's easy to get to the beach by following the road signs. It is also served by a bus line.
There are free sports activities during high season including beach volleyball, beach football, badminton and beach tennis, as well as other environmental, leisure and cultural activities aimed especially at children and families.
Water sports: From June to September you can go jet skiing, banana boating, paddle surfing, windsurfing and parasailing.
Cala Millor has a cycle lane that runs along the seafront promenade, as well as the whole length of the coast between Costa dels Pins and S'Illot. An additional section links the coast to the inland town of Son Servera.
Cala Millor Bay has several pedestrian-only precincts along the length of the seafront. They link up with the seafront promenades of Sant Llorenç and Son Servera and reach as far as Cala Bona.
The resort of Cala Millor Beach also offers a wide range of facilities and amenities, including shops, bars, restaurants and accommodation.
Cala Millor Bay is the backdrop to a spectacular firework display during the Festival of the Tourist held each year in the last week of September.
See Our beaches. Help us protect them!