Urban Art Route Color Millor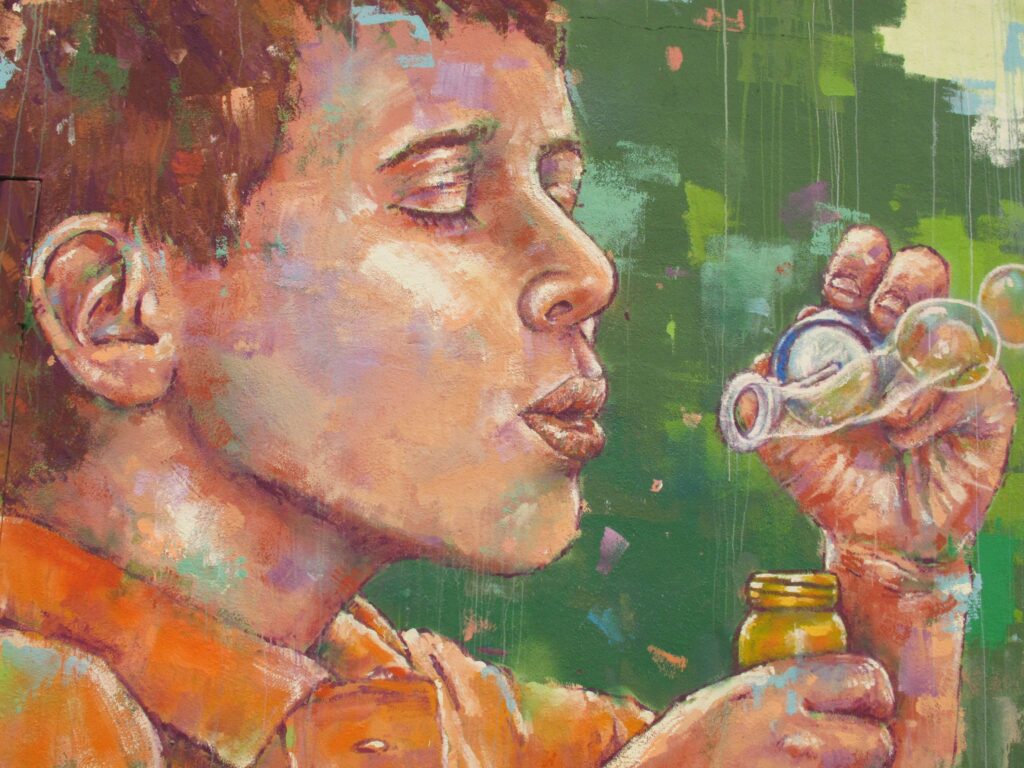 The «Color Millor» urban art route is a large-format artistic creation designed to generate a reaction and a dialogue with the spectator in the street. It is a powerful way of creating community and transmitting values, histories and positivism, at the same time as rehabilitating a public space.
Conceived as an open-air art gallery, it is always open and is for everybody, without restriction of age or social status. It has the simple intention of bringing art to the people.
These creations embellish the public space and give form and colour to previously sad and degraded areas that are now a scenic incentive added to the environment.
NAME AND LOGOTYPE
«Color Millor»
The name is a play on words between the name of the resort, Cala Millor, and the word colour. The result is an itinerary dominated by art and colour running through different parts of the resort.
MURALS
Most of the murals are painted on electricity substations, which already have the ideal volume and tend to be rather run-down with zero visual interest.
Moreover, the designs are unique and, therefore, cannot be found on any other walls anywhere in the world.
The themes are always respectful and never infringe on human rights, encourage violence or discriminate on the grounds of gender, race or anything else. They just exhibit day-to-day stories and situations related to the sea, gastronomy and the area's traditions, in a friendly, colourful and fun way.
Each mural has a plaque with the title of the work and a QR code. Scanning the digital code with your mobile phone will take you to the visitcalamillor.com website, where you can find detailed information on the whole route and watch a video showing the creation and end result of all the murals included on it.
LOCATIONS
The murals are at different sites in Son Servera, Sant Llorenç, Cala Bona, Cala Millor, sa Coma, s'Illot and Son Carrió. They embellish different areas, so that people interested in the artistic itinerary will also be able to visit the inland villages and not only the tourist areas.
SATH, THE ARTIST
Sandro Thomàs − artistic name SATH – was born in 1983 in Son Servera, Mallorca. After some years as a self-taught painter, in 2004 he began a degree in graphic design in Palma.
SATH uses figurative elements to create colourful, slightly surrealistic works and impossible situations or actions, all the while transmitting the message. Images of daily life flow and dissolve into others, creating different meaning. He pursues the idea of recontextualisation as a tool for building new meanings.
Since 2002, his preferred technique has been spray painting (graffiti). As a visual communicator, he shares his curiosity and his thoughts through painting, be it on canvas or finding different uses for urban spaces, mainly outside the traditional contexts of places for art.
See more of his work at www.sath.es
Immens / Immers
https://goo.gl/maps/wdwxoCj92yGHcsHu6
Depicts the marine world and aquatic activities. In Catalan immens means "immense" and immers means "immersed".





Vaixell-a
https://goo.gl/maps/DPXJCNT6MeguETp26
Depicts the world of fishing, a significant feature of the Cala Bona area. In Catalan vaixell means "vessel" and vaixella means "crockery".




Som-hi / Somni
https://goo.gl/maps/WuFsfqH9aZdH6yuDA
A mural that reflects children playing at blowing bubbles and placing their dreams upon them. A very appropriate theme, given that it is next to a children's playground and a municipal infants school. It has a predominance of the colour green with the intention of maintaining chromatic coherence with the trees and the gardens that surround the site. In Catalan som-hi means "Let's go" and somni means "dream".





MoviMent
https://goo.gl/maps/dyEKyEoJvvwxZPiC8
A depiction of some of the different sporting and leisure activities available in the area. The title is a play on the Catalan words moviment, which means "movement", and ment, which means "mind"





Forca/ Força
https://goo.gl/maps/MQaR15PWR53EKnoQ9
Festes de Sant Antoni a Son Servera





Natura/ No atura
https://goo.gl/maps/LPwVotkBm5vQLLJE9
New mural of COLOR MILLOR urban art route. It is located in Sa Coma and pays homage to the nature, flora and fauna that surround this destination.









Plàstic/ Fàstic
https://goo.gl/maps/WPc8UvmnE4XF34wU6
Awareness mural about the great problem of plastics in our oceans. The turtle is going to eat a bag thinking it is a jellyfish.








Mapa de la Ruta d´art urbà