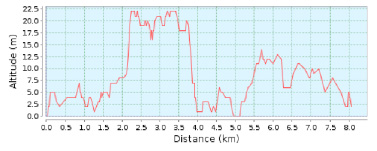 Distance: approx. 8.80 km
Approximate time: 2 h.
Accumulated ascent: 23
Accumulated descent: 23
Difficulty: Low
Type of itinerary: Circular
Sa Punta de n'Amer is a privately owned Natural Area of Special Interest (ANEI) located between the Cala Millor and Sa Coma residential zones. It occupies some 200 hectares of great natural, cultural and historic value. Especially interesting are the remains of the talayot (prehistoric tower) of Es Tancat de sa Torre, the 17th-century defensive tower known as Es Castell, the remains of sandstone quarries and the bunkers on Sa Coma beach, a reminder of the Spanish Civil War (1936-1939). From the starting point walk along Passeig de la Mar in the direction of Sa Coma until you come to an area of dunes, which is already in Sa Punta de n'Amer. Here you find the beginning of a dirt and sand track that takes you to Es Castell (1.3 km). Visit the tower and don't miss the impressive panoramic views of Cala Millor and Sa Coma bays. Going down, follow the path behind the tower that heads east towards the point.
After two minutes you come to a fork. Take the path to the left until you come to a National Geographic Institute geodesic marker. The view is similar to that from the tower, but from further to the east. From here you have to return along the same path to the tower and then take the wider track in the direction of Sa Coma. After 400 metres you come to a wall on the left and the remains of an opening that marks the entrance to the track leading to the sandstone quarries by the sea (300 metres). Follow the path that runs along the shore and over the rocks until you come to Sa Coma beach, where you can see the Civil War bunkers and take a dip in the sea. From the beach you can return to your starting point by taking Avinguda Baladres followed by Avinguda de Sa Coma and Carrer Golf, where you join up with Passeig de la Mar on Cala Millor beach. On the walk through this natural area you can see a wide diversity of plants and animals. The flora is the typical coastal zone vegetation: dunes with Phoenicean Juniper, thymelaeaceae, white lilies, rosemary and sea spurge and rocks with samphire and limonium and scrub and pine grove vegetation: palmetto, Mediterranean heather, Phillyrea angustifolia, Cistus salviifolius, shrub, pine, reeds and asphodels. The fauna includes a wide variety of birds: seagulls, cormorants, partridges and blackbirds, as well as some mammals, such as the Mallorcan hedgehog.