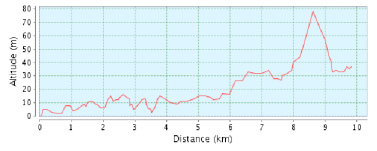 Start: Cala Millor Tourist Information Office. Av. Badia de Llevant, 2
End: Son Carrió
Distance: 9.82 km
Approximate time: 2 h 30 min
Accumulated ascent: 78 m
Accumulated descent: 45 m
Difficulty: Low
Type of itinerary: Non-circular
From the starting point follow the seafront promenade to Punta de n'Amer, continue along Avinguda Baladres to Avinguda de les Palmeres and turn left to reach the beach. Walk to the end of Sa Coma Beach, turn right along Carrer Atzeroles and continue straight on along Carrer Alzina. This street takes you to the Son Servera – Porto Cristo road next to some apartments.
Cross the road with great care and take the first path on the right, Camí de Na Gatera. On this path you can see the typical Mallorcan dry-land farming terrain with almond, carob and fig trees. Walk straight on until you come to an electricity meter; turn left and then take the first path to the right, Camí de sa Marina, making a zigzag. This path takes you straight to the Sa Torre Nova road from Son Carrió to Cala Millor. Walk about another 200 metres and turn to the right, taking Camí de Ca's Canonge, passing the quarry on your left. Start climbing and after about 500 metres, where the paths cross, take the Camí dels Molins, which you follow until it passes below the railway bridge of the Palma – Artà line. This is a good moment to observe one of the many structures built for this line.
You come back to the Sa Torre Nova road where you need to take great care, as it is very narrow and very busy. Turn right and after about 1 km you come to Son Carrió.
The points of interest in Son Carrió are the railway station, with architectural details that give it a Modernist air, and the church of Sant Miquel, which was inaugurated in 1907 and is in neo-Romanesque style with architectural contributions from, among others, Antoni Gaudí.
In the town you can try the local pastries and liqueurs and other typical Mallorcan dishes. Son Carrió is famous for its apricot pastries.
The return is optional. You should plan for some form of transport.