Bike Route Volta per infern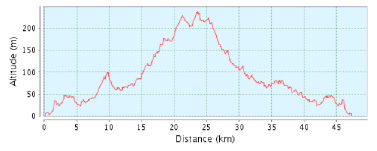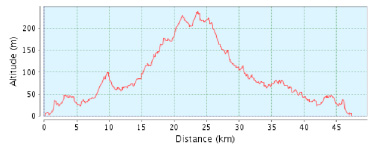 Distance 47,30 Km.
Difficulty 2/4
Itinerary Cala Millor – Son Carrió – Sant Llorenç – Volta per Infern – Sant Llorenç – Son Carrió – Cala Millor.
From the starting point head towards Son Carrió on the Sa Torre Nova road, which you will find on the way out of Cala Millor on the left, in the direction of Porto Cristo.
From Son Carrió continue along the road in the direction of Sant Llorenç (PMV-4021) and then turn right onto Camí de Son Berga, which will take you to the road that goes to Sant Llorenç (PMV-4022). Enter the town going under the railway bridge and, after passing a stop sign, turn to the left in the direction of Manacor. Take the main street through the town in the direction of Artà and, after 400 metres, on the left you come to the road that takes you to the Volta per Infern, which is signposted as Camí de Calicant PMV-3323.
Without detouring from main route, pass by the Calicant crossroads and continue north until you link up with the Camí de Sos Ferrers, after a section of road in poor condition.
You pass by the signs indicating the former agricultural estates and agro-tourism establishments: Ses Bit·les, Sa Talaia, Es Pou, Sa Carbonera. At Km 25.8 you come to another crossroads (PMV-2034). Take the road to the right, Camí de Ses Planes i Sa Begura. Follow it to Sant Llorenç without making any detours.
Once in the town you have to take the Artà road and after 400 metres turn onto the narrow road on the right that takes you to Carrer del Pou. Turn left onto the Camí de Son Vives, the estate you will see on the right on a small hill. Pass it by and at the next crossroads, with a "give way" sign at Km 37 on the route, turn to the right until you reach the Son Servera to Sant Llorenç road (PM-403). Cross this busy main road with great care and take the track right in front of you, the Camí de Ses Talaies. This asphalted track runs between cultivated fields and the estate of the same name and, after making some zigzags, arrives at Son Carrió. From here just follow the Sa Torre Nova road, as you did at the beginning of the itinerary, and it will take you back to Cala Millor.
The places of interest in the town are:
Calicant and Muntanyes d'Artà Natural Area of Special Interest (ANEI)
Sant Llorenç Railway Station
Pou Vell (Old Well)
Parish Church
Birthplace of Salvador Galmés
Molí d'en Gras (Mill)