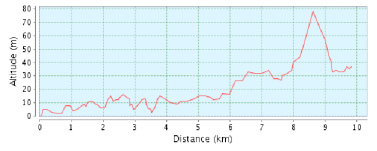 Itinerary Cala Millor – Sa Coma – S'Illot – Son Carrió– Cala Millor
From the starting point follow the signs that lead you to the resort of Sa Coma. At Avinguda de Ses Palmeres turn to the left and, almost straight after, to the right along Avinguda de ses Savines until you come to the stop sign, already in the built-up area of S'Illot. Turning to the left you come to the Talayotic Settlement of S'Illot, one of the most important archaeological sites on the island. It is open to the public and its Visitor Centre will help you understand the site.
To return to the itinerary, after the stop sign turn right to reach the roundabout on the Son Servera – Porto Cristo road (PMV-4023) and continue in the direction of Son Carrió (PMV-4021). This is a road with a lot of twists and turns and some steep hills. The countryside here is one of dryland farming —almond groves and fig and carob trees— and, in the background, the town of Son Carrió, which you find yourself entering before you know it.
This is a good time to have a rest and visit the church of Sant Miquel. We also recommend the Mallorcan pastry specialities made by the town's bakers: coques, ensaïmades, panades and cocarrois.
From Son Carrió the itinerary continues towards the coast along Camí de Sa Torre Nova. This is a very busy road, so please cycle with care.
When you reach the roundabout you can see the profiles of the hotels in Cala Millor and Sa Coma. Turn left and you start to descend the Camí de Son Moro, which takes you back to your starting point.