Bike Route Cala Millor Son Servera Artà Sant Llorenç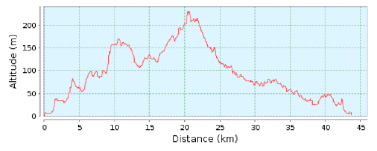 Distance 43.72 Km
Difficultty Medium
Itinerary Cala Millor-Son Servera-Artà-Sant Llorenç-Cala Millor
This cycling itinerary complements the Artà (Canyamel) and Sant Llorenç (Volta per Infern) routes and can be combined with either to make a longer ride.
From the starting point head towards Son Servera on the PMV-4023 road, passing through the town centre to reach the outskirts in the direction of Palma or Manacor. At the roundabout with the Capdepera road (PM-404) turn off in the direction of Artà on the so-called "Rentadors" road (PMV-4031), named after the old public washing facilities and the animal drinking trough. This road has some steep climbs and sharp bends. Link up with the Artà to Sant Llorenç road (Ma-15), from where you can see the Morro den Ferrutx and the town of Artà, where you can rest or visit some of the recommended places of interest.
Returning to the route, continue along the road in the direction of Can Picafort and, after a short time, turn onto Camí de Carrossa or Sos Fulles (Ma-3334) that takes you to Sant Llorenç. Please take great care as the road surface is in poor condition here. Continue on the camí, passing by Hort de sa Begura and taking Camí de Ses Planes on the left, which coincides with the Sant Llorenç itinerary.
Once in the town you have to take the road to Artà and after 400 metres turn onto the narrow road to the right that takes you to Carrer del Pou. Turn left onto Camí de Son Vives, named after the estate you will soon see on the right at the top of a small hill. Pass it and the next crossroads (with a give way sign) and turn to the right to reach the Son Servera to Sant Llorenç road (PM-403). Cross this busy road with great care and follow the track right in front of you, the Camí de Ses Talaies. This paved track takes you through cultivated fields and past the farm it is named after to Son Carrió.
From there just follow the Sa Torre Nova road that will take you back to Cala Millor.
Places of interest:
Son Servera: Esglèsia Nova (New Church) and church of Sant Joan Baptista
Artà: Shrine of Sant Salvador, Parish Church of the Transfiguration of the Lord, Regional Museum, Ses Païses Talayotic Settlement
Sant Llorenç: Parish Church, Pou Vell (Old Well), railway station.
A Son Carrió: church of Sant Miquel, railway station.