Bike Route Cala Millor Porto Cristo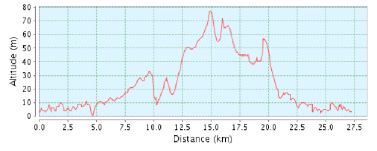 Start: Cala Millor information office. Av Badia de Llevant, 2.
End: Cala Millor information office. Av Badia de Llevant, 2.
Distance: 27.26 Km
Difficulty: Low
Itinerary: Cala Millor – Sa Coma – S'illot – Cala Morlanda – Porto Cristo – Camí de sa Marineta – Son Carrió -Camí dels Molins – Camí de Cas Canonge – Camí de Na Gatera – Sa Coma – Cala Millor
From the starting point head towards Sa Coma, following the signs along Avinguda Baladres and Avinguda Savines. Continue along the latter avenue until you come to a stop sign in S'Illot.
Turning to the left you come to the Talayotic Settlement of S'Illot, one of the most important archaeological sites on the island. It is open to the public and the tour includes the Visitor Centre which helps you to understand the site.
Return to Avinguda Savines, cross the Can Amer torrent that divides the municipalities of Manacor and Sant Llorenç and continue in the direction of Cala Morlanda – Porto Cristo. From the former, a small holiday resort, continue along the road in the direction of Porto Cristo until you come to the cycle lane that runs from the main road (PMV-4023) to the town.
Porto Cristo is famous for its natural harbour and the caves you can visit 360 days a year. Go down to the port to enjoy the wonderful views. To rejoin the itinerary, head out of the town in the direction of Manacor until you come to the roundabout on the Porto Cristo – Manacor road (PM-420).
From there cycle with care along the road and when you come to the next roundabout turn right onto Camí de Sa Marineta. This track is about 6 kilometres long and, after crossing the Sa Gruta track, it takes you to the Son Carrió – Manacor road (PMV-4021). At this crossroads turn to the right and after a little more than a kilometre you come to Son Carrió. 
This inland Mallorcan town is a good place to take a break. You can visit the church and enjoy some of the traditional products of the area, including coques (pastries) topped with apricots, vegetables or trampó (a kind of Mallorcan salad). After a rest, you can continue the route back to Cala Millor.
Head out of the town and after about 500 metres take the track to the left signposted as Camí dels Molins. After going up and down a few hills and about 3 kilometres turn right onto Camí de Cas Canonge. Here you have to cross the Sa Torre Nova road that goes to Cala Millor and continue on Camí de Na Gatera, to the right after 200 metres. This track is not paved and you have to cycle with care. Without leaving it you come to the Porto Cristo – Son Servera road, which you cross and then continue along the track to the right alongside some apartments. This track connects to Carrer Alzina and Avinguda Savines in Sa Coma. From there you can return to the starting point in Cala Millor by following the signs in the town.