Bike Route Cala Millor Arta Canyamel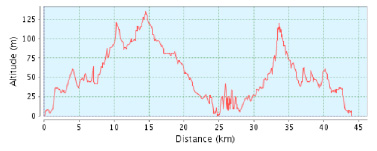 From the starting point go up Avinguda Joan Servera Camps to the start of Cala Millor on the cycle route. At the second roundabout head in the direction of Capdepera – Artà on the bypass until you reach the PM-404 road.
At the next crossroads turn left in the direction of Artà (PM-4041). You pass the Es Rafalet estate where the road climbs steeply. After a while you begin to see the mediaeval outline of Artà with the church and shrine of Sant Salvador standing out at the highest point of the town. In Artà you can take a break in the town centre and visit the Artà Regional Museum or the Ses Païsses Talayotic Settlement.
Back on the main road you head in the direction of Canyamel (PM-4042) and at the roundabout with the Son Servera – Cala Rajada road (PM-404) continue straight ahead until you reach the town of Canyamel. You soon come to Canyamel Tower that was built in the 13th century to defend the town and is well worth a visit. Follow the signs to the beach, where you cross a small bridge, taking care to avoid the pedestrians. On the other side of the torrent continue up the coast to the right until you come to the Caves of Artà, from where you have marvellous views of the sea and the cliffs. Following the itinerary, turn back, but this time take the PM-4042 road, passing the Canyamel golf course, until you come back to the roundabout on the Capdepera road (PM-404).
Turn in the direction of Son Servera, continue along the road and climb to the Coll dels Vidriers pass (120 m) (you can avoid the climb by going through the tunnel). From the top of the pass you have a fine panoramic view of the towns of Capdepera and Son Servera. Return to Cala Millor by taking the Son Servera bypass.
Places of interest:
Son Servera: Esglèsia Nova (New Church) and Church of Sant Joan Baptista
Artà: Shrine of Sant Salvador, Parish Church of the Transfiguration of the Lord, Regional Museum, Ses Païses Talayotic Settlement
Canyamel: Canyamel Tower, beach and Canyamel lake interpretation centre
Caves of Artà