Son Servera-Artà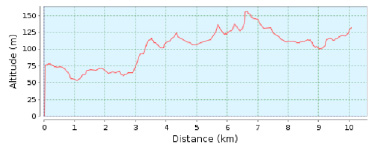 Plaza de Sant Joan (Son Servera)
The beginning of this section of the GR-222 is the main square in Son Servera, which you reach by following the directions given in Route 5 (Puig de Sa Font) that starts in Cala Millor. If this is your first time in Son Servera we recommend you visit the Església Nova (New Church) and the church of Sant Joan Baptista, as well as the "Pastoret" (Little Shepherd) statue erected in homage to the survivors of the epidemic that struck the town in 1820.
The GR-222 is a long distance footpath between the Serra de Tramuntana (northern mountains) and the Serres de Llevant (eastern mountains), specifically from Lluc to Artà. There are possible variations to the main route of which the following is an example. You take cart tracks from Son Servera to Artà that are currently used by vehicles and sheep and goat herders.
This itinerary takes you through farmland that is very different to the typical coastal landscapes and you can enjoy the tourism resources and scenery of the two towns.
From the town square walk towards the outskirts along Carrer de Pere Antoni Servera, then Carrer de Sa Punteta and Carrer Verge de Sant Salvador. When you come to the roundabout, cross it using the pedestrian crossing, then turn right in the direction of Cala Ratjada. After about 400 m turn to the left, where you have a choice of three paths. Take the one to Son Pentinat. Cross the Xiclati Torrent and the Alzinar de Son Xerubí oak grove. Next you come to a fork and at this point you have to pay special attention. Take Camí de Son Xerubí, which passes through the olive groves to reach the 17th-century houses known as the Cases de Son Xerubí. The asphalt comes to an end and a cart track begins just behind these houses. This is an area of exceptional scenery and superb views. Continue along this track, which is indicated by a wooden pole. You come to a first barrier where you enter the La Jordana farm. Keep following the signs and after about 2 km you will come to the Coll de la Jordana pass. Here you take the asphalted track in the direction of Artà. From this point you can see the town of Artà, which is another 40 metres further on.
You enter Artà along Carrer Major and go the centre of the town where you can enjoy a well earned rest.
The GR-222 continues with other itineraries in the Parc Natural de Llevant. From Artà you can reach the Betlem Hermitage by road (Ma-3333).
For more information visit the hiking section at www.conselldemallorca.net.
Places of interest:
Son Servera: Església Nova (New Church), the church of Sant Joan Baptista and the "Es Pastoret" statue. Weekly market: Friday morning all year.
Artà: Shrine of Sant Salvador, the Talayotic Settlement of Ses Païsses, Artà Regional Museum. Weekly market: Tuesday morning all year.